Thermofisher
Thermo Fisher Scientific is the world leader in serving science, with revenues of more than $20 billion and approximately 70,000 employees globally. They help their customers accelerate life sciences research, solve complex analytical challenges, improve patient diagnostics, deliver medicines to market and increase laboratory productivity. Through their premier brands – Thermo Scientific, Applied Biosystems, Invitrogen, Fisher Scientific and Unity Lab Services – they offer an unmatched combination of innovative technologies, purchasing convenience and comprehensive services.
Visco have worked with Thermofisher on a number of projects over the last few years and were pleased to say they're always very impressed with our ability to handle large projects and the high quality of our custom printed whiteboards.
The Brief
Thermofisher approached Visco to design two new large Custom Printed Whiteboards for their operations warehouse. The Bespoke Whiteboards would be used by staff to keep track of their daily/ weekly targets and for meetings.
The solution
We initially had a discussion with the decision maker about their requirements for the large Custom Printed Whiteboards so we could recommend the best printed product from our Visco range.  Their current Personalised Whiteboards were visually un-appealing and there wasn't any consistency to the design.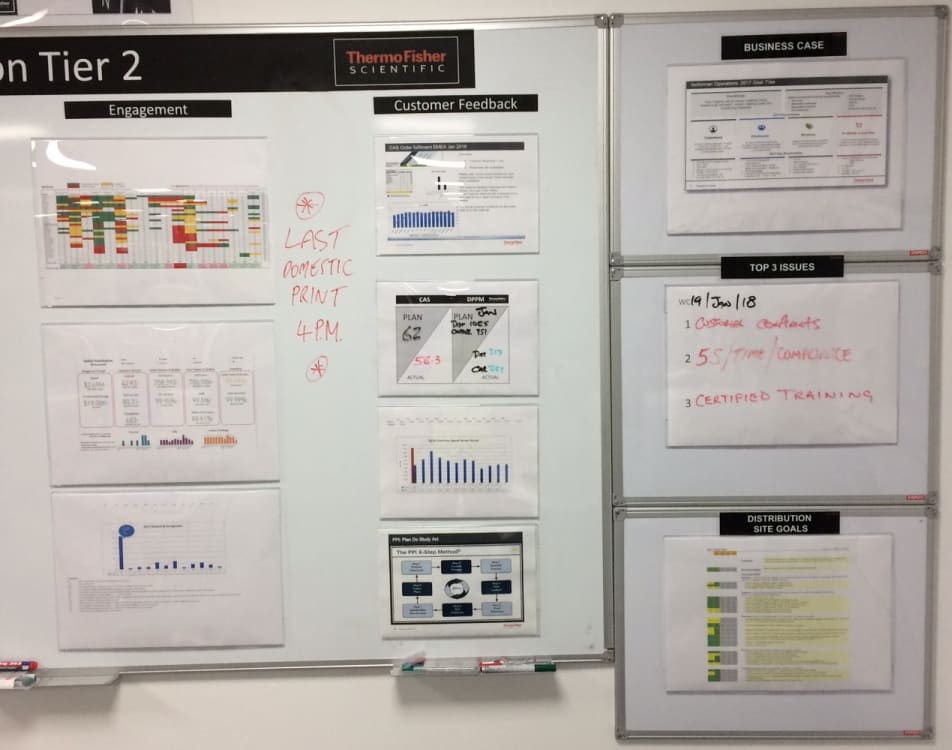 Due to the size of the Whiteboards, we recommended our Printed Magnetic Cut & Join board which allows us to connect multiple Whiteboards together to create one large bespoke whiteboard. This was perfect for Thermofisher as they wanted the whiteboards to be one continuous design.   
Because of the experience Visco has with designing and manufacturing Custom Printed Whiteboards, we were asked to produce the design for the whiteboards following a strict design brief.  It was imperative the Bespoke Whiteboards followed the same brand guidelines as the Whiteboards we had previously manufactured for Thermofisher. Furthermore, the Whiteboards had to be visually appealing but most importantly had to engage their staff for them to be effective.
The Custom Printed Whiteboards came with a premium five year drywipe surface so the Whiteboards were fit for purpose and would withstand daily use for the foreseeable future.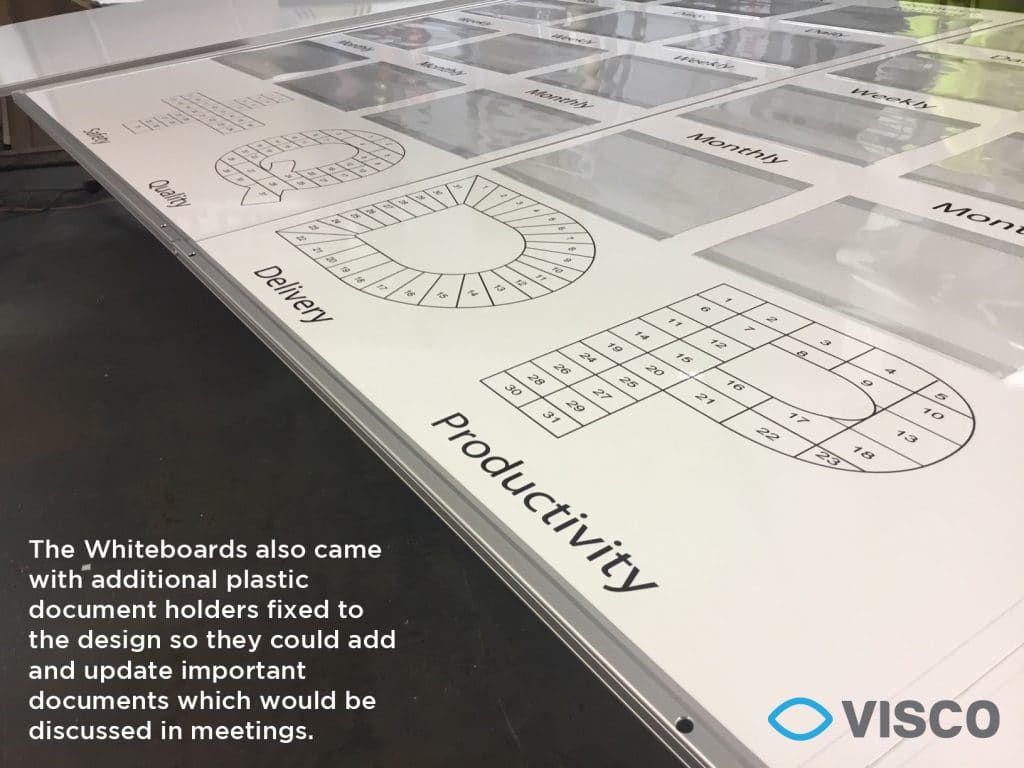 What they said…
I was recently looking to upgrade our daily Tier boards and so reached out to Visco Solutions who had already supplied our company with a number of great whiteboards. Based on the size I was advised to use the cut and join boards which I have attached and as you can see they look extremely professional. Since having them installed I have received a lot of positive feedback on the look of the whiteboards, I was also very impressed. Just like to say thanks again for your continued support.