Boohoo.com is a UK-based online fashion retailer specialising in own brand fashion clothing. They Operate very close to home in Burnley UK, distributing clothing globally through their various brands. A massively successful company recording a profit of £580m in FY 2018.
We have wanted to work with Boohoo now for a while, being such a prominent company in our local area, so we were thrilled when they approached to supply them with some custom printed whiteboards for their new warehouse.
The Brief
Boohoo Approached Visco to design a printed whiteboard for their new warehouse in Burnley. At that time they had no Visual management boards in their warehouse, therefore were looking for the expertise of Visco to turn their ideas into a reality. The whiteboards would be used to correlate important information which would be discussed within staff meetings.
The Solution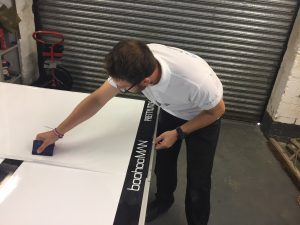 From our initial discussion with Boohoo they were looking for a significantly large printed whiteboard at 2400mm x 1800mm. Due to the board being this particular size they would require our cut & join whiteboard which would be three whiteboards connected together to create one large writing space. With our printed cut & join boards, designs overlap the whiteboard connecting strip creating one continuous design.  
We were provided with a rough sketch by the decision maker, highlighting the information they required to be on the Printed Whiteboard. This was enough to enable us to design their artwork for their board. To go with the whiteboard, the customer also required magnetic document holders so they could interchange important documents on their whiteboard. Therefore it was important that each section would have enough space to fit the required document holders. All designs followed specific corporate brand guidelines and bespoke magnetic document holders were made in black to go with their corporate colours.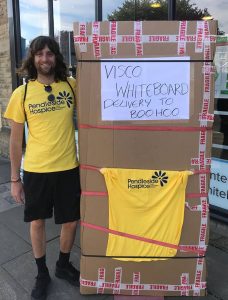 Pendleside Hospice
We had organised with Boohoo that the whiteboard would be hand-delivered by one of the Visco team, to help raise money for the Pendleside Hospice. This would be part of our fundraising efforts for the Pendleside corporate challenge, which we are proudly taking part in to raise as much money as possible for the fantastic Pendleside Hospice.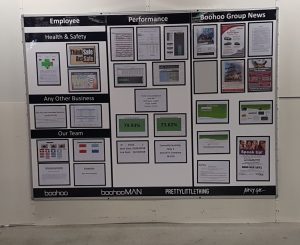 What they said
The printed whiteboard is now up and running in their warehouse and they are extremely happy with how it looks. So much so that they are looking to order four more. Hopefully this will be a long and prosperous relationship with Boohoo.