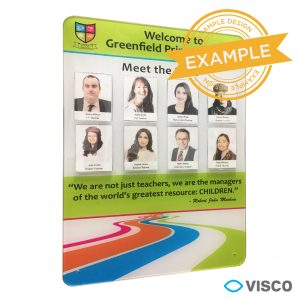 At Visco we don't just specialise in printed whiteboards, we also have a variety of high impact products that are sure to grab any visitor's attention. For this blog we will be talking about our ever popular staff/team acrylic boards.
You may have noticed staff/team boards when you've been visiting a client or other business, however you've never known where to purchase one. Well look no further than Visco Solutions. Our Multi pocket staff / team boards are a fantastic way to visually introduce your staff to any of your visitors. Made from high quality acrylic, a staff/team board is sure to make you look even more professional and is the perfect addition to any reception/working area.  Our staff /team board are frequently used in a variety of sectors including healthcare, education and business as they allow your visitors to instantly recognise any of you workforce allowing them to put a face to a name.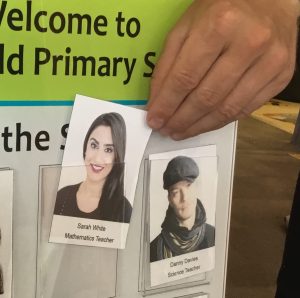 Our staff/team board can be purchased directly from our website with a variety of stock sizes to choose from. All designs are custom made for the customer, so any corporate branding can be matched.  If it's a bespoke size you need, we can make a staff board to meet your requirements. All our staff /team boards are made in house to ensure quality is at its highest. Once your staff board is up its easy to change and update photos to keep your staff boards up to date.
For any bespoke enquiries please contact one of our friendly sales team today, they'll be more than happy to help. Remember our staff/ team boards are the perfect product to create a feel good welcome to any organisation!