After a busy first few months at Visco, we thought it was time to do a review on our most popular product – Our Printed Whiteboard. Custom designed to suit any personal requirements.
For many companies who don't currently use a Printed Whiteboard in their office or working environment, they don't have the knowledge of the benefits it can bring to their organisation or usually don't know where to start with the design. This is something we can help with.
A Printed Whiteboard is sometimes not regarding as a necessity, so people will generally opt for the cheaper alternative, a plain whiteboard. You may get away with adding your own grids with tape or printing your logo on paper and blu tacking to the face. At Visco we understand that the initial cost in comparison can seem unnecessary, however a Printed Whiteboard can help you make savings in other areas in the long run and you will soon forget about that initial outlay, probably wishing you had purchased your new board sooner.
We've selected just a few benefits that we think would benefit any organisation no matter what sector.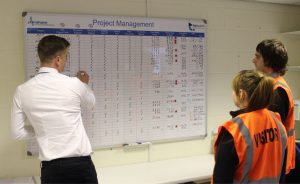 Increase efficiency and productivity – Your staff and team members will work far more efficiently if they have clear instructions on exactly what is expected of them. Printed Whiteboards are intended to give information at a glance meaning your workforce is more organised and productive whilst also reducing downtime. There's a reason why some of our clients are regarded as some of the biggest brands in the world. They understand that by investing their money in Visual Communication and Management Boards, they will see results in production from their staff.
Look More Professional – Many businesses have clients, suppliers and potential prospects visiting their workplace on a daily basis. Displaying and using Printed Whiteboards and other Visual Management Boards around your workspace indicates the high standards of work you set for your business. Printed Whiteboards will also make you stand out from your competitors impressing any future clients. It shows you have clearly invested in getting the most from your staff and expect production and organisation to be at its highest level.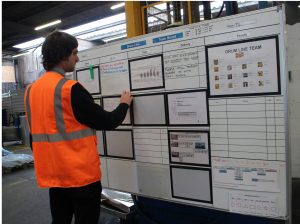 Organise Working Areas – Printed Whiteboard can be enhanced with the addition of interactive accessories to enable all your key information to be kept in a clearly visible place within your working area. Along with Visual Management Boards you can ensure meetings can be centred around performance whilst addressing areas that need to be improved. Making the board interactive also encourages your staff to become more engaged, increasing productivity and helping your staff stay focused on hitting the organisational targets and goals.